We are the best Tri Disc Refiners Manufacturer / Exporter / Supplier in India
Tri Disc Refiners India / Tri Disc Refiners Gujarat / Tri Disc Refiners Ahmedabad
The Garuda Pumps is the prime source for the impeccable quality of Tri disc refiners, devised precisely using premium quality raw material in adherence with the industry laid standards. In addition to impeccability of this Tri disc refiners, compact and study configuration has made it a preferred choice for refining applications. The high efficiency and lower power consumption trait of these Tri disc refiners, in contrast to the conical refiners have made it the first choice for refining application. This is composed of three sets of disc blade, which can be adjusted hydraulically. The refiners equipped with a control panel to regulate the disc blade, open disc plate as well as start stop and are ideal to treat the pulp of wood, straw, bagasse and waste paper.
The offered product undergoes stringent checking prior to packing for dispatching to ensure conformity with standard specification, thus deliver an end product that possesses long life expectancy, optimum performance and low maintenance.
This Tri disc refiner is available in different sizes and capacities to suit the variegated needs of different industries to refine diverse pulps, and excellent for Bagasse pulp, Hardwood pulp, Soft wood pulp, Wheat straw pulp, Rice straw pulp refining.
Each Tri Disc Refiner Featuring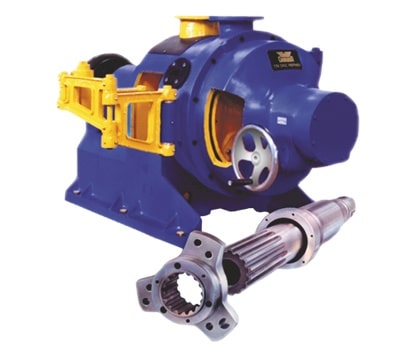 | | | | | | |
| --- | --- | --- | --- | --- | --- |
| MODEL | | GDR-13 | GDR-17 | GDR-21 | GDR-24 |
| 1. CAPACITY | TDP | 5-15 | 15-48 | 25-80 | 40-120 |
| 2. MOTOR RATING | HP | 30-50 | 75-150 | 175-300 | 275-400 |
| 3. REFINER SPEED | RPM | 960 | 960 | 960 | 960 |
| 4. CONSISTENCY | % | 4-6 | 4-6 | 4-6 | 4-6 |
| 5. DIFFERENTIAL PRESSURE | Kg2/Cm | 0.5-1 | 0.5-1 | 0.5-1 | 0.5-1 |
| 6. STOCK INLET PRESSURE | Kg2/Cm | 1-1.5 | 1-2 | 1-2 | 1-2 |
Over the years, our company has carved a strong niche for itself in India as well as overseas for providing comprehensive range of precision-engineered Tri disc refiner within promised time. Consumers can avail our entire range of the Tri disc refiner by contacting us @ +91-79-22145748 or +91-79-40083755 & 58. Water Ring Vacuum Pump / Compressors